Great news! The booster club has approved the purchase of a FungoMan.
This device will empower our coaches to maximize practice and concentrate on specific training. The cutting-edge robotics combined with remote technology will allow player development to happen faster than the competition.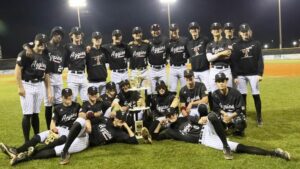 We are excited to host our 28th annual tournament in 2023. There will be 24 high school teams from across the country.
Our goal is to continue to increase the field of competition hosting as many teams as possible, but still ensure we deliver an outstanding event, one that all will thoroughly enjoy.
Latest Fundraising Updates
The Tate Baseball Boosters Club Annual Raffle Fundraiser is underway for the 2022-2023 season.
Help support the team for only $10 by contacting a player today!
 Prizes:
1st Prize: $500 Visa Gift Card
2nd Prize: $250 Walmart GC or $250 Still Waters Day Spa GC
3rd Prize: $250 Gift Card not selected by 2nd prize winner
Drawing to be held 12/12/22 @Whataburger Hwy 29 -6pm
Tate Baseball Holds Fall Halloween Costume Game